Accreditation
Santa Barbara County has far exceeded the number of accredited programs in our community compared to neighboring counties and to the state, as a whole. Santa Barbara has increased the number of NAEYC accredited programs from 6 in 2000 to 48 in December 2015. Part of the reason for this is that Santa Barbara County made accreditation as the highest standard of our Quality Counts rating system. This means that programs in Quality Counts must be accredited in order to obtain a 5 star rating. However, just because a program is accredited does not mean they automatically receive a 5 star rating.
Accreditation involves an in-depth review of the classroom environment; curriculum; interpersonal relations among the children, staff, and families; community involvement; staff credentials, training, and professional development; and leadership and management.
First 5 and Orfalea Foundation efforts has resulted on Santa Barbara County proudly counting with 48 child development programs that strive for the highest mark of quality. By going through the process of becoming accredited, these programs and their staff affirm their commitment not only to high-quality early childhood services, but to raise the bar for other child development programs in our community and our state. These programs are ready to uphold the standards NAEYC has set to ensure the best for young children and their families.
National Association for the Education of Young Children (NAEYC) Accreditation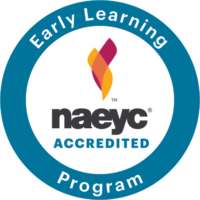 The NAEYC Accreditation system sets a standard of excellence for early childhood programs that prepares all programs for the highest mark of quality. The process includes extensive self-study, submission of a self-study report, a site visit conducted by an assessor, and an accreditation decision made by an academy early childhood professionals. The NAEYC accreditation standards are based on recent research in early childhood development and learning.
Accredited programs demonstrate that they meet 10 national standards of excellence and quality and more than 400 related Accreditation Criteria. Programs that meet these standards provide a safe and healthy environment for children, have teachers and staff who are well-trained, and provide appropriately challenging and developmentally sound learning activities. These programs are continuously improving themselves to provide the best possible educational opportunities for children. Programs receive NAEYC accreditation after an on-site visit by NAEYC assessors to ensure that the program met each of the ten program standards.
Read more about the Top 30 Benefits of Accreditation.
The accreditation process includes gathering information from families, teachers and administrators, and observing the care and education provided to children. For more information on accreditation visit www.naeyc.org.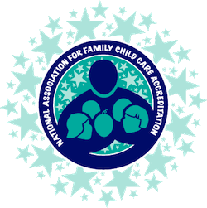 National Association for Family Child Care (NAFCC) Accreditation
NAFCC Accreditation is a professional voluntary self-study process by which family child care programs demonstrate that they meet 5 national standards of excellence and quality. The NAFCC Quality Standards are built around the concept that relationships are a critical component in providing high quality care. The relationships that a provider develops with individual children, those that are formed among the children themselves, and the relationships with each family are all important factors in how well the program meets the needs of both the provider and the families served.
The NAFCC accreditation process is designed to be a continuum of professional development and quality improvement.  For more information on accreditation visit www.nafcc.org