Welcome Every Baby
Congratulations on the birth of your new baby! In the coming weeks and months as you get to know your new baby, Welcome Every Baby is here to provide the help and support your new family may need. Welcome Every Baby is designed to help connect you with additional information and resources to help you do your most important job of all, raising your new baby.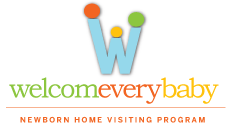 The Welcome Every Baby Program
Welcoming Every Baby to Santa Barbara County
Welcome Every Baby is a FREE service available to all newborns and their families in Santa Barbara County. We are here to help all babies get off to the best possible start in life. The following help is available to ALL families:
Nurse Home Visit: Soon after your baby is born you can receive a visit in your home from a nurse. The nurse helps with breastfeeding, caring for your newborn and other questions or concerns you may have.
The Welcome Every Baby Line: For any questions that you may have in the days and years to come. Welcome Every Baby has a call-line, staffed by a child development specialist to answer questions that you may have about caring for your baby and your child's development in the first 3 years. 
Call the New Welcome Every Baby Line for Answers:
Northern SB County: (805)922-5459
Southern SB County:   (805)898-2229 
A child development specialist can help with: 
Breastfeeding & nutrition
Stress & the baby blues
Sleep problems
Crying & tantrums
Child Development
Learning & child care
Toilet training
Local activities & resources
And much more…
Contact Us
Santa Maria Office
2007 Preisker Lane, Suite A
Santa Maria, CA 93454

Santa Barbara Office
1124 Castillo Street
Santa Barbara, CA 93101